The city of Chino Hills is governed through a structured system that involves various commissions and a city council, all adhering to the regulations outlined in the Chino Hills Municipal Code. The city's official website is www.ChinoHills.org.
City Council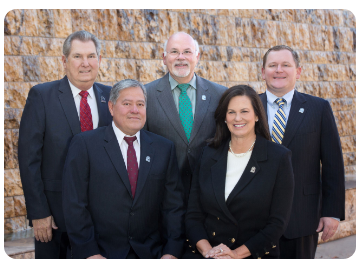 The City Council is the primary governing body of Chino Hills. It comprises five elected members, each serving a four-year term. The council is responsible for the city's legislative and policy direction. They select one member annually to serve as Mayor. The council's duties include voting on laws and proposals, allocating resources, developing policies, and formulating strategies to support the city's vitality and economic viability. All decisions are made in public meetings to ensure transparency and community involvement. The City Council meetings are held on the second and fourth Tuesday of each month​​​​.
Our current City Council Members are Peter Rogers, Mayor; Cynthia Moran, Vice Mayor; Art Bennett, Council Member; Brian Johsz, Council Member; and Ray Marquez, Council Member.
Planning Commission
The Planning Commission serves as an advisory board to the City Council. It consists of five members, each nominated by a City Council member and appointed by a majority council vote. The commission's responsibilities include reviewing site plans, residential designs, and making recommendations on amendments to the Development Code and General Plan. They also review the conformity of city land sales with the General Plan. The commission meets on the first and third Tuesdays of each month​​​​.
Public Works Commission
The Public Works Commission advises the City Council on public utility matters, cable television issues, waste management, water and sewer system improvements, and traffic safety. This commission also plays a role in overseeing water rate structures and recycled water initiatives. Like the other commissions, its members are nominated by City Council members and are required to be residents of Chino Hills. Their meetings are scheduled for the first Wednesday of each month​​​​.
Parks & Recreation Commission
This commission advises the City Council on matters related to developing and maintaining public parks, recreational facilities, and open spaces. It plays a crucial role in the city's Parks Master Plan, which includes trail development, wildlife preservation, and coordination of organized sports. The commission also reviews and advises on budgeting for parks and recreation services. Meetings are held on the third Wednesday of each month, with adjustments during the summer Concerts in the Park series​​​​.
Municipal Code
The Chino Hills Municipal Code guides the governance of Chino Hills. This document compiles the most current regulations adopted by the city, with ordinances of a general and permanent nature codified into the Municipal Code on a quarterly basis. This codification ensures that the city's regulations are up to date and reflect the ongoing growth and changes within the community​​.
In summary, Chino Hills' governance is a collaborative effort between elected council members and appointed commission members, all working together to ensure the city's development aligns with the community's needs and legal frameworks.