By Vinit Patel
BAPS Charities to Hold Walkathon Saturday, June 20, 2015 around the BAPS Shri Swaminarayan Mandir Campus.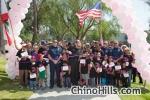 Chino Hills, CA- Individuals of all ages will join together on Saturday, June 20th, 2015 at 9:00am in support of the annual BAPS Charities walk, to be held at the BAPS Swaminarayan Mandir in Chino Hills. Many individuals have spent months raising funds in support of the beneficiaries for this year's walkathon, which include the American Cancer Society, Special Olympics World Games- LA, and the Chino Valley Independent Fire District.
Aastha Joshi, a 10-year old elementary school student, dedicated many hours on weekends to help raise funds for the beneficiaries. She states, "I want to do my part in helping to fight cancer". Aastha, along with many other volunteers and community members, will walk for a great cause this Saturday. All members of the community are welcome to join.
BAPS Charities aims to selflessly serve society through a variety of social projects and inspire tens of thousands of others to do the same. In addition to the 54 such annual walkathons hosted across North America this year, BAPS Charities hosts various programs to support and raise awareness for healthy living, environmental sustainability and educational initiatives around the world. BAPS Charities strives to sincerely serve the community by improving the quality of lives of individuals and their families. Vinit Patel is a community outreach activities volunteer.