The Chino Valley Chamber of Commerce held a New Member Mixer, Ribbon Cutting, & Re-Grand Opening on Thursday, June 30th. The event was held from 5:30 PM to 7:30 PM and was free to members. It was significant because of the history-making number of new members. The chamber is growing by leaps and bounds and awarded at least twenty new member plaques at the event. They also offered free table space for the event to new members who have joined since August 31, 2021.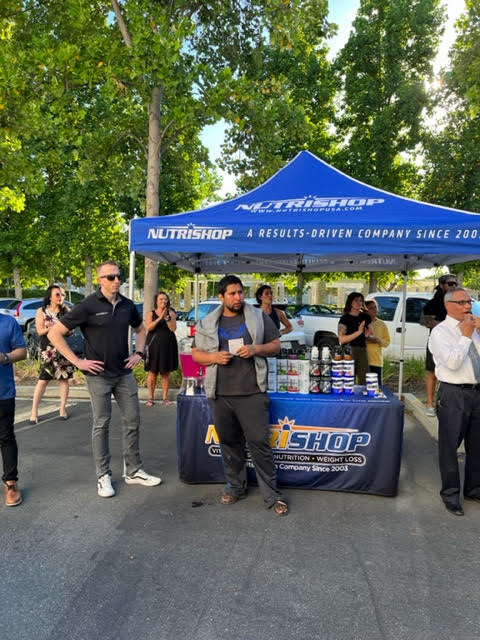 New members included By Affinity, Inc, Diamond Country Escrow, Modern Pros Solutions, Patron's Barber Parlour, Accelerated Urgent Care, BIA Investment Assets, No Place Like Home Realty, Massage by Anicee, and many more. You can see more of the Chamber's new members on the Chamber website. They also offered a professional headshot station for members wanting a nice picture for their social profiles or websites.
Many local dignitaries spoke at the event, and, significantly, San Bernardino County Supervisor, Curt Hagman, presented the chamber Board President, Christina Gagnier, with a grant check for $100,000 to fund the chamber's work in workforce development. Ms. Gagnier gave her last speech as Chamber Board Chair and handed the gavel to the incoming Board Chair, Josh Sun.
In addition to celebrating the new members, over the past year, the Chino Valley Chamber of Commerce has renovated the Chamber building, purchased new furniture, and purchased new equipment to help modernize the Chamber.
They are offering "Furniture Sponsorships" at the following levels:
Dell Desktop Computers : $700 (6 only)
Office Partition Sponsor : $430 (3 only)
Standing Desk Sponsor : $420 (3 only)
55′ TV Sponsor : $400 (1 only)
Accent Chair Sponsor $310 (4 only)
Foldable/Movable Training Table Sponsor : $260 (6 only)
Office Desk Sponsor : $180 (3 only)
Movable Dry Erase Board Sponsor : $150 (1 only)
Under Desk Storage : $100 (3 only)
Book Case / Storage Combination Sponsor : $90 (6 only)
Office Chair Sponsor : $70 (30 only)
Movable Stand for TV Sponsor : $68 (1 only)​
Paper Shredder Sponsor : $32 (1 only)
Office Trash Can Sponsor : $25 (4 only)
Event Sponsors included Ultimate Source Inc., Mary Kay Cosmetics, Renee Chew-Epicure, AACE HOME CARE INC., Dog Park for Chino Hills 501c(3), By Affinity Inc.,
The location of the event was:
Chino Valley Chamber of Commerce Building
13150 Seventh St.
Chino, CA 91710